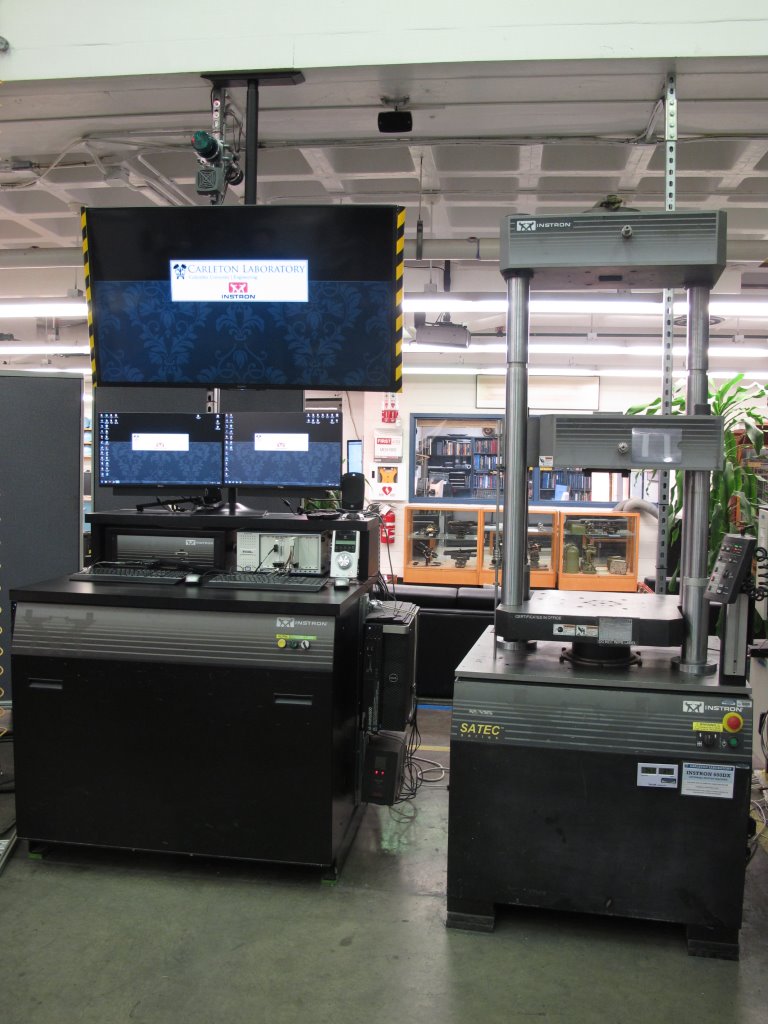 The Instron 600DX 135k UTM is a load and displacement controlled hydraulic testing machine. The Bluehill 3 control system allows this machine to fulfill a wide array of duties, ranging from undergraduate and graduate teaching, independent research, doctoral research, to high-volume testing of medium-sized high-strength materials. Along with its higher-capacity neighbor, the 600DX is equipped with a presentation LCD, which allows the machine to display live results of ongoing testing.
The system is designed with dual test spaces for tension, compression, bend, shear, and flexure testing on high strength materials.
APPLICATION RANGE
Metals - wire, strip, rod, tube, and plate

Fasteners - tensile, proof, single and double shear

Construction - reinforcement bar, wire mesh, concrete compression/flex, and structural steel

Component testing

EN10002-1, ISO 6892, ASTM E8, ASTM C39, ASTM F606, SAE J429, CE Compliant
SPECIFICATIONS
Manufacturer: Instron, USA
Model: 600DX
Load Capacity: 135 kip (600 kN) in tension and compression
Control System:

Load and Displacement Control

Bluehill 3 Controller

Compression Platen Diameter: 6.5 in (165 mm)
Displacement:

Maximum Speed: 15 in/min (381 mm/min)

Maximum Speed at Full Load: 3 in/min (76 mm/min)

Clearances:

Tension: 36 in (914 mm)

Compression, crosshead platen to base: 22.5 in (565 mm)

Lateral clearance, tower to tower: 20 in (508 mm)

Clamping mechanism: Mechanical

Grips:

220 kip (1 MN) fatigue rated in tension/compression

Round capacity: 0.25 to 1.75 in (6.35 to 44.5 mm)

Flat capacity: 0 to 1.5 in (0 to 38.1 mm)

Calibration/Certification:

ASTM E4 on both force transducers

ASTM E83 on strain transducers
RESERVATION REQUESTS
This machine is maintained by Carleton Laboratory management. To reserve this machine, please fill out the equipment reservation request form at least two business days before your usage slot.
For further information contact Will Hunnicutt at +1.212.854.3158.
MACHINE SCHEDULE