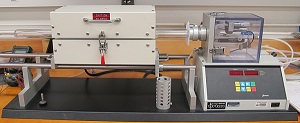 Orton 2010 C Dilatometer

The Orton dilatometer Model 2010C is a horizontal, digital dilatometer that measures the expansion or contraction of a single test specimen from -190°C to +500°C or RT to 1000°C with on-board, stand-alone, programmable process controller and linear motion measuring head assembly equipped with LVDT sensor.
Operated according to ASTM E-228, ASTM C-372, or ISO 7991
SPECIFICATIONS
Temperature Range: RT to 1,000°C or -190C to 500C

Furnace: Split tube style, 12 inch heated zone
Thermocouple: Type "N" 2 wire

Sample Holder and Probe Rod: Fused Quartz

Sample Size (max): 50mm long x 10mm round or square

LVDT Displacement Range: ±0.100 inch (±2.54 mm)

Displacement Resolution: 0.0000009 inch or 0.9 micro-inch (0.00002 millimeter or 0.02 microns)

PLC Resolution for a 1" Sample: 0.00009%

Reproducability Range: ± 0.004 Percent Linear Change
Contact Load: Adjustable - minimum 4 grams
Temperature Control: User Programmable, 20-segmet, PID Controller with Melting Point Protection
Heating Rate: 1 to 30°C/minute Programmable at 0.01°C increments
Data Acquisition: On-board Process controller - data stored at 1°C increments, real-time data collection or data retrieval to computer
Data Analysis: Remote programming and analysis Software
Computer Interface: RS232 or USB with adapter
RESERVATION REQUESTS
This machine is maintained by Carleton Laboratory management. To reserve this machine, please fill out the equipment reservation request form at least two business days before your usage slot.
For further information contact Adrian Brügger at +1.212.854.3158.
MACHINE SCHEDULE