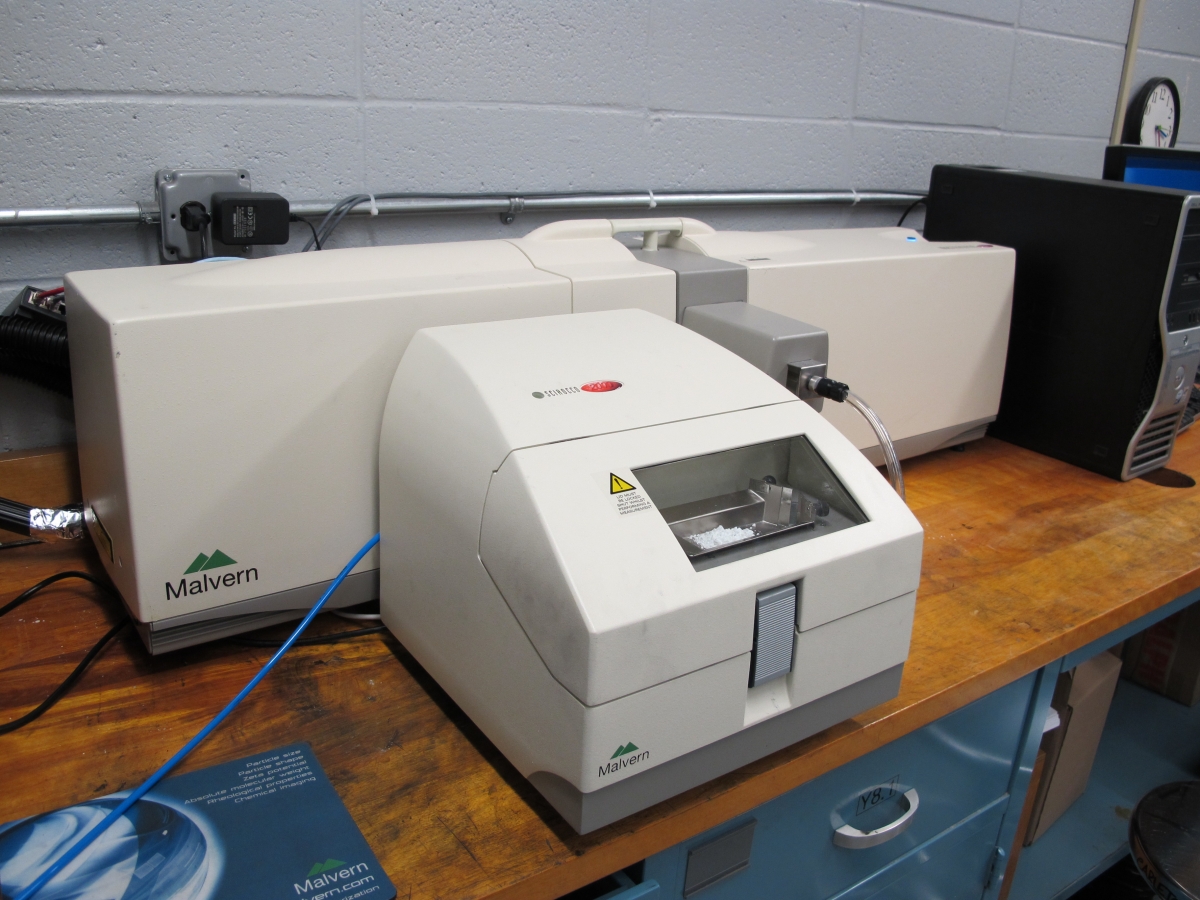 Masterizer 2000 Particle Analyzer and Controller
The Mastersizer 2000 particle size analyzer has been developed to meet industry's growing need for global comparability of results, traceability, regulatory compliance, and efficiency in the laboratory. In introducing the Mastersizer 2000 particle size analyzer, Malvern has advanced particle size analysis to the point where it is now a simple, straightforward and routine task.
SPECIFICATIONS
Accuracy and Reproducibility Accuracy:
± 1% on the Dv50 using the Malvern Quality Audit Standard.
Instrument-to-instrument reproducibility:
Better than 1% RSD on the Dv50 using the Malvern Quality Audit Standard.
Assured reproducibility:
Software-driven SOPs eliminate user variability and enable global method transfer. All measurement parameters are automatically embedded in the result files and can be critically reviewed by e-mail recipients. Measurements can be replicated by following the same SOP.
Broad measuring range:
Measures materials from 0.02µm to 2000µm.
Wide range of sample types:
For the measurement of emulsions, suspensions and dry powders.
Ease of use:
Fully automated for ease of use. Designed to eliminate user-to-user variability. Reduces training requirements for new users and maximizes deployment of skilled personnel.
Flexibility:
Wide range of sample dispersion units. Rapid changeover between sample dispersion units with automatic configuration. "Plug and Play" cassette system allows simultaneous connection of two sample dispersion units.
Regulatory Compliance:
Full QSpec validation documentation available including compliance with 21 CFR Part 11.
User-friendly Software:

Software-driven Standard Operating Procedures (SOPs) eliminate user variability. An SOP-creation wizard helps users to create good measurement methods. On-line help and advice on every aspect of performing a measurement available at the click of a button.

On screen instructions lead user through the measurement process. SOPs supplied for routine sample analyzes.

Custom Report Designer allows screen layout and printouts to be configured to suit each user.

Custom calculator allows the parameters important to your application to be defined.
For further information contact Huiming Yin at +1.212.851.1648.