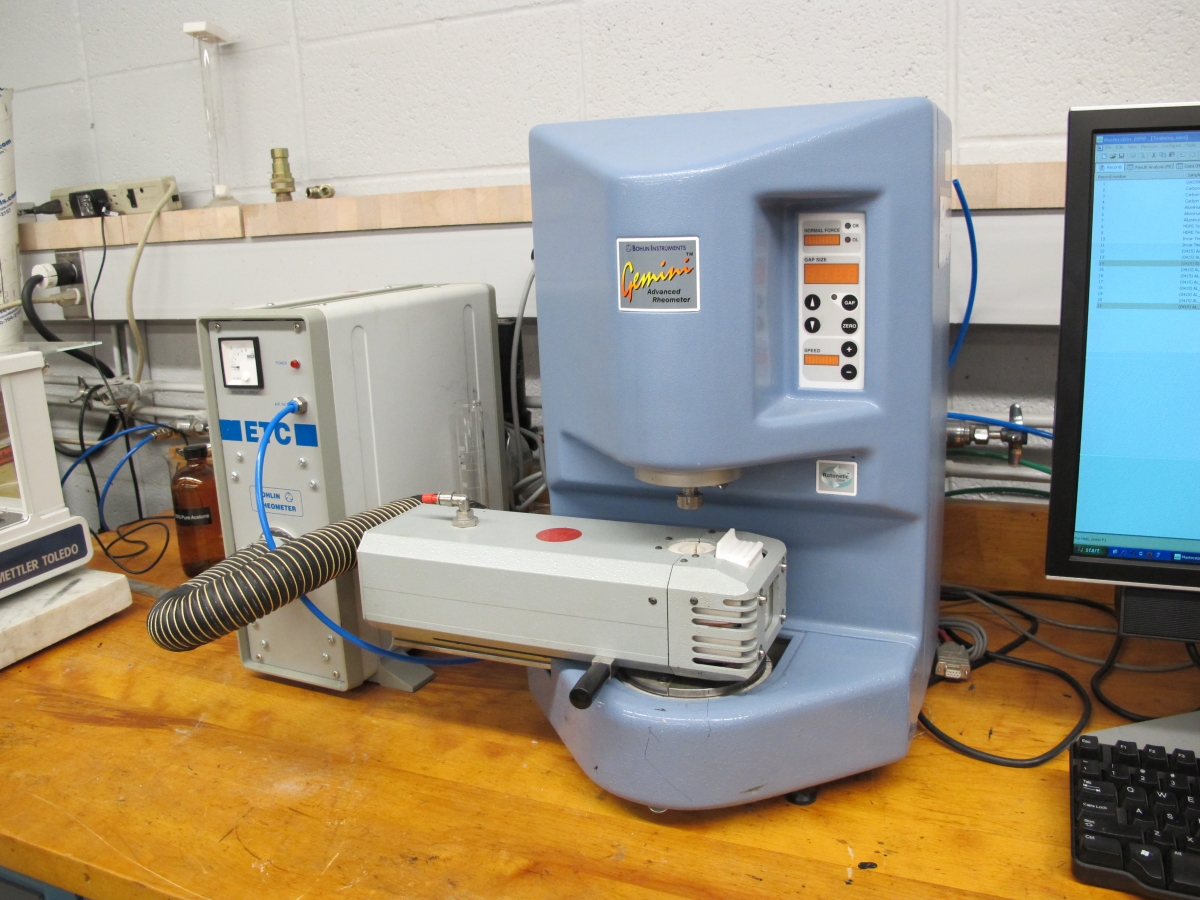 Gemini II Rheometer with Furnace
An advanced rheometer system incorporating Rotonetic 2 drive, patented, adaptive control technology which is optimized for both strain controlled and stress controlled operation.
Key technical features include a broad torque range which extends to 200mNm and makes the Gemini suitable for a wide range of applications in research and product development. A new high resolution torque mapping system applied to Bohlin's inherently low bias air bearing technology allows low torques to be set extremely accurately.
The Gemini system is available with the full range of EasySwap™ temperature controllers which include fully integrated peltier devices, a forced gas oven with optional liquid nitrogen cooling and electrical heating. This allows the Gemini II to be quickly and easily configured to allow testing on a full range of materials and applications including polymer melts, composites, fluids and semi-solids.
The Rotonetic 2 drive enables testing in all conventional strain and stress controlled modes including stress relaxation, creep and viscometric modes. Oscillation testing is available in either direct strain or stress controlled modes. Direct strain operation of oscillation allows preset strain amplitudes to be imposed upon the test sample without iteratively adjusting the stress on a cycle-by-cycle basis. Partial wave sampling enables rheological data to be gathered using just part of a full oscillation cycle. When used in conjunction with direct strain control, partial wave sampling makes low frequency testing far less time consuming and therefore more practical.
SPECIFICATIONS
Torque range: 0.05µNm to 200mNm Controlled stress/rate viscometry. Controlled stress/strain oscillation.
Torque resolution: Better than 1nNm Position resolution: 50 nano radians
Frequency range: 1 micro Hz to 150Hz
Controlled speed range (CR mode): 0.01 milli rad/sec to 600 rad/sec
Measurable speed range (CS mode): 10 nano rad/sec to 600 rad/sec
Normal force NI measurement range: 0.001 to 20N (50N option)
Step change in strain: <10ms.
Temperature range (dependent on control used): -150°C to 550°C
Temperature Control:

ETO system: -15°C to 300°C

Melts oven: ambient to 450°C

Peltier plate: -30°C to 200°C

Peltier cylinder: -20°C to 180°C

ETC: ambient to 550°C

Low temperature extension to ETC: -150°C to 550°C
RESERVATION REQUESTS
For further information contact Huiming Yin at +1.212.851.1648.